Our Family Is Honored
To Protect Your Family
More than 30 years of experience in the insurance industry has given Platinum 1 the opportunity to earn the respect of numerous valued clients, vendors and partners. We are proud to be a second-generation family-run business committed to sharing that same unbreakable bond of trust with your family.

You are never just a number to us. Instead of a call center, you can look forward to personalized attention whenever you contact us. And you can be sure that your assets are fully protected with the kind of customized coverage that satisfies your valid concerns.

Part of what makes Platinum 1 unique is our ability to provide traditionally difficult-to-acquire insurance policies for clients. Our creative strategies and market strength, honed over three decades, can secure these coverages and ensure your peace of mind.
As an important client, you can look forward to convenient access to our professional group of advisors.

We invite you to meet our team.
Robert Daniels
Site Administrator
Founder and Chairman
A New York native who served in the U.S. Air Force, Robert has tended to the insurance needs of Southern California residents for over 30 years. Specializing in personal/commercial lines, he works directly with the world's leading insurance companies. His experience as an agency principal has given Robert keen insights into the complexities of the insurance process. When not serving his valued clients, Robert enjoys spending quality time with his children and grandchildren.
California Dept. of Insurance License #0742912
---
Brielle Goldberg
Site Administrator
Account Manager
Highly respected for her rich background in customer service, Brielle handles all basic client needs, from billing to insurance protocols and more. Her passion shines through in her business practices as well as in her personal interests such as traveling, hot yoga, and family.  
California Dept. of Insurance License #4279741
---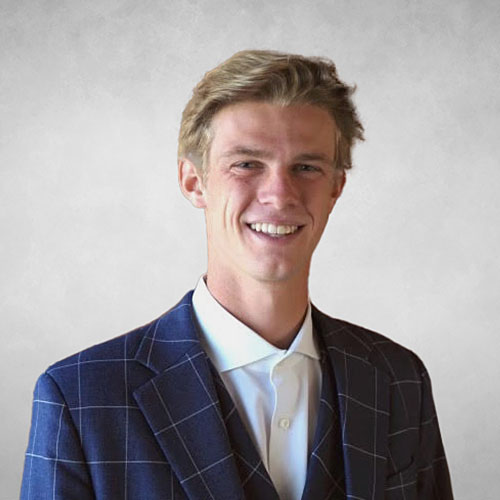 Jonah Klaasen
Website Administrator
Broker
Jonah's positive attitude, dedication to customer service, and attention to detail have made him an excellent broker for all situations. He is known for bringing new perspectives and innovative ideas to the office. During his non-working hours, Jonah – a former Division 1 golfer for Bryant University – enjoys golf, music, and finance, which he is currently studying.
California Dept. of Insurance License #0M97125
---
Bobbie Kennamer
Site Administrator
Customer Service Representative
With a rich history spanning close to two decades in the realm of customer service, Bobbie brings a wealth of experience to the table. Her journey now leads her into the dynamic world of insurance, where she is excited to embark on a new chapter. Amidst her busy schedule, Bobbie cherishes moments spent with her loved ones, fostering connections that are close to her heart.
---
Dillon Campo
Site Administrator
Account Executive
Adept at creating a world-class experience for his clients, Dillon believes in not only serving his clients but also educating them about the nuances of their policies. A graduate of Chico State University, he has been involved in many different aspects of insurance, health, personal lines, auto, home, and commercial. Dillon is an avid sports fan and enjoys the outdoors and traveling with his wife, Nicole.
California Dept. of Insurance License #0M90620
---